A message from the board of SwingColumbus:
We want you to know that SwingColumbus isn't just the handfull of us who serve on the board. SwingColumbus is YOU! We need your help to run our events and to spread the word about how much fun it is to swing dance so more people will try it!
So how can you help?
-Use your skills.
We work hard but there's lots more to be done. We could use help in lots of areas including:
Marketing: designing flyers, writing blog posts, posting event listings on various websites, photography, video...

Events: event planning committees, band searches, venue searches, coordinating volunteers, ideas for improving events, food coordinator, special projects

Education: registration/door volunteer for weekly lessons, writing handouts for new students
Executive: developing business partnerships
(we do pay or give discounted admission to an event for certain tasks or for advanced skills -
contact us
and we'll talk!)
-Write a review
of The Shrunken Head and our
Swingin' Tuesdays
on
Google Maps
,
CitySearch
,
InsiderPages.com
,
Yelp.com
,
urbanspoon.com
, or
local.yahoo.com
. These sites' reviews all feed automatically into map info for Google, Bing, and Yahoo. Be sure to mention swing night is Tuesday!
-Tell your friends!
When we send out event invitations on Facebook, please repost them on your wall and invite your friends. Suggest they become a fan of SwingColumbus on
our fan page
.
-Attend other groups' events.
Yes, that's right, we want you to go visit the
Buckeye Bop Club
, the
Mid-Ohio Boogie Club
, ballroom studios, etc. We want to encourage more crossover between groups so that we can encourage future opportunities to work together. If you have ideas for ways our groups can get involved with each other, we'd love to hear from you! (see our
contact form
)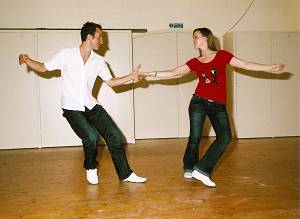 -Come out dancing with us
. We often dance at outdoor festivals, bars, and other places so more people can see what Charleston and Lindy Hop look like (and hopefully want to try them!) You can find out about these opportunities sometimes through this blog, but mostly on
Facebook
.